Irish Government's Easter Rising programme 'lightweight'
THE Irish Government's 1916 Easter Rising commemorative programme launched this week at the GPO has been described by Sinn Féin as "lightweight" and unfitting to the memory of those who fought for Ireland's freedom from the British Empire.
A Fine Gael/Labour Government-sponsored video launched this week was widely criticised across the political and social spectrum for failing to even mention the 1916 Easter Rising or any of its executed leaders.
The Irish Times reported that a second version of the tourist-oriented video was hastily updated with "a lingering shot of a copy of the Proclamation" set against a photograph of a burnt-out GPO.
The Ireland Inspires 2016 video urges people "Let's build a new legacy" when the legacy in the Proclamation of 1916 is still unfulfilled almost a century later.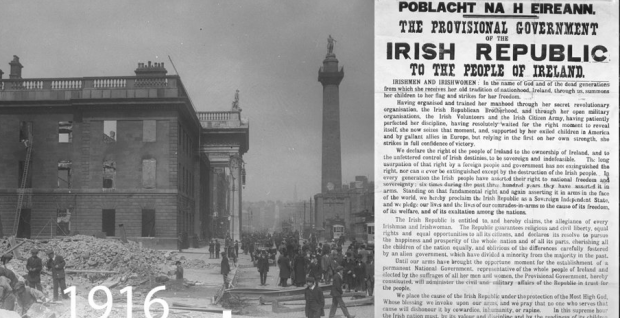 ● The Irish Government video's token opening shot
"Both videos feature footage of prominent figures including Ian Paisley, Queen Elizabeth, Bono, David Cameron and Bob Geldof but, other than a brief glimpse of the Proclamation document at the beginning of the newly-updated video, at no point are Pádraig Mac Piarais, James Connolly or indeed any of the other executed 1916 leaders mentioned in the piece," the Irish Times noted.
The insult was compounded when a spokesperson for the Department of Arts, Heritage and the Gaeltacht confirmed that Google Translate was used to translate English into Irish on a Government website promoting the 1916 commemorations.
Sinn Féin Arts & Heritage spokesperson Sandra McLellan TD said that any state programme must be inclusive of the entire island and the Irish nation as a whole, including the Diaspora.
"It must aim to educate, motivate and celebrate around the very ideals and vision as espoused in the proclamation rather than become a military and ceremonial event without substance," she said.
"Organisations that were centrally involved in the 1916 Rising such as Conradh na Gaeilge, the GAA and trade unions must be included in any official state commemorative programme.
"Citizens and communities must be actively encouraged and facilitated in an open way by the Government to generate and put forward their views and ideas on how we commemorate this critical period in our country's history."