6 June 1981 – Vote the prisoners No. 1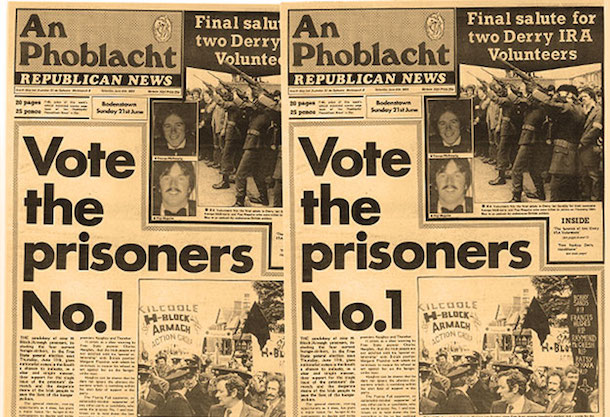 THE candidacy of nine H-Block/Armagh prisoners, including the four current Hunger Strikers in the general election next Thursday 11 June, gives nationalist voters in the South a chance to indicate, in a clear and simple manner, their support for the single issue of the prisoners' demands and the desperate desire of the Irish people to save the lives of the Hunger Strikers. 
The general election, coming opportunely as it does, has given a major boost for Hunger Striker campaigners to double and treble their efforts in a massive resurgence of activity aimed at saving the lives of this second phase of four Hunger Strikers, who all too quickly will be reaching that critical stage which tears at the hearts of all of us.
The pressure generated by the prominence of the H-Block issue in the Leinster House election campaign is focused on both premiers, Haughey and Thatcher.
It serves as a clear warning to Free State Premier Charles Haughey that the Irish people are not satisfied with his 'special relationship' with British Premier Margaret Thatcher with which he continues to excuse his refusal to act against her on the Hunger Strike issue.
Haughey can be shown that he dare not ignore the obvious discontent which is rumbling within his own base of support in the party.
The Fianna Fáil supporter (or nationalist-minded supporter of any other party or candidate) who votes the prisoner No 1 and continues on to vote down the line according to his or her political preference will have taken a unique opportunity to register clearly his or her view on one single issue, presented clearly and simply amongst all the electoral torment of policy and verbiage.
The thousands of votes that will be cast for the prisoners (and for those other candidates who unequivocally support their demands) will reinforce both nationally and internationally the 30,000 and more votes for Bobby Sands in the Fermanagh/South Tyrone Westminster election.
These votes will underline indisputably the marches, vigils and pickets on the streets, the votes passed at local councils, the resolutions of trade unions and trades councils, the motions in cultural and sporting bodies, the questions asked of public representatives, the telegrams sent, the letters to the press, the newspaper editorials, the work stoppages, the names on petitions and books of condolence, and the expressions of concern from churchmen, politicians and public figures.
An arrogant Margaret Thatcher, backed up by Britain's military might, came to Belfast last week to sneer at all that support and, with all the Tory contemptuous hatred of Ireland, to dismiss it as non-existent.
She has set a simple question which the 26-County electorate can answer in this election – are you for the blood-thirsty Thatcher or for the prisoner?