A united Ireland will deliver a stronger economy and a just, equal and fair society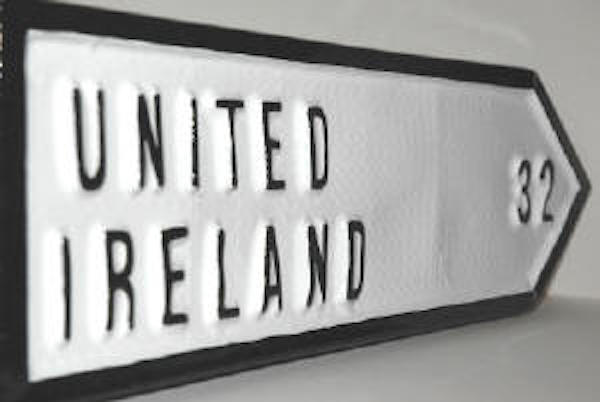 BY MATT CARTHY MEP
ACROSS IRELAND, the support for republican ideals is growing. Sinn Féin is the only all-Ireland political party with elected representatives in every forum across the island – the all-Ireland Ministerial Council, the Executive, the Dáil, the Seanad the Assembly, the European Parliament, and at local council level. Every single person across Ireland, North and South, is represented by Sinn Féin.
We are the only party with the strategy and policies to achieve Irish unity.
Our strategy to deliver a united Ireland is built upon:-
Building popular support and consensus for Uniting Ireland
Developing governmental and non-governmental structures, policies and networks on an integrated and all-Ireland basis and to influence policy makers to achieve this.
Challenging those who would seek to maintain the status quo.
Ensuring that that the British and Irish governments maintain and implement in full their obligations under the Good Friday Agreement and other agreements.
Ensuring the Irish Government acts on the Constitutional imperative of reunification.
Building international political and practical support for Irish unity.
Sinn Féin are building a new, agreed and united Ireland. We are driving forward the architecture for a united Ireland.
Uniting Ireland is about delivering the necessary political and social change that is required to ensure that Ireland is a nation which serves all of our people.
A united Ireland will deliver a stronger economy and a just, equal and fair society.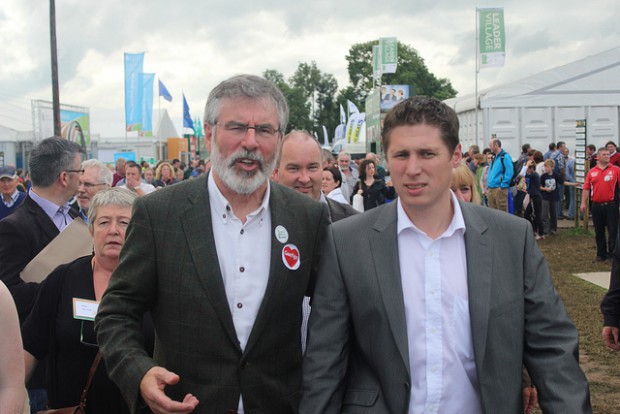 ● Gerry Adams TD with Matt Carthy MEP
Removing the inherent economic instability of partition will make way for an integrated all-Ireland taxation system which is progressive and which will support healthcare which is free at the point of delivery, and a strong education system.
A united Ireland means stronger public services. Back-to-back provision doesn't work. It wastes resources and drains the economy. All-Ireland provision delivers for all the people of Ireland.
There are multiple examples in which a better service has been delivered through an all-Ireland approach. For instance, the joint cancer centre in Derry now provides services for patients from throughout the north-west. Patients from Donegal or Derry do not have to travel to Belfast or Dublin for treatments.
There are opportunities within a united Ireland to reconfigure how we deliver health services across Ireland.
The total money spent per person within the current regressive health system in the South is more than is spent per person in the North of Ireland or in Britain. Yet the people of the North and Britain have access to better services which are free at the point of delivery.
With vision, commitment and determination we could deliver better services to all the people of Ireland, North and South.
A united Ireland economy will create a level playing field for trade not dependent on the whim of currency exchanges or taxation differences on one small island. 'Brand Ireland' can be promoted free from the confusion and the wasteful duplication brought on by having different state bodies promoting produce and products from Ireland. We would no longer have the ludicrous situation where a body such as the National Dairy Council could decide that milk from a Northern cow is not Irish!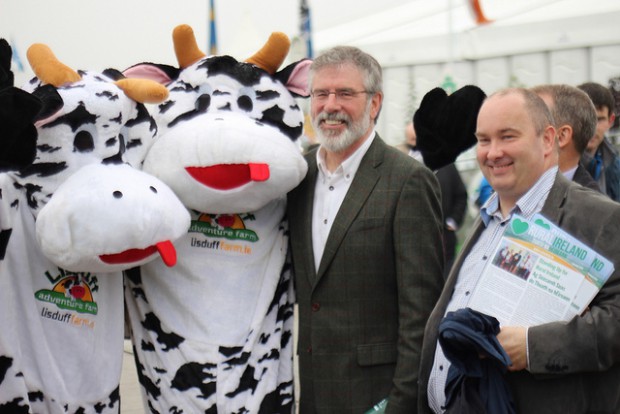 ☻ Gerry Adams TD and Senator Trevor Ó Clochartaigh with 'udders' at the Ploughing Championships in Laois
The combined economic output per person in all of Ireland together is greater than our nearest neighbour, Britain. This means our combined economies are stronger together. Integrating the economy will drive economic growth and deliver a more sustainable fair and equal economy.
Sinn Féin have shown real leadership in the Northern Executive and Assembly. We have:-
▪︎ Protected access to Social Security;
▪︎ Delivered free prescriptions;
▪︎ Protected people from Water Charges;
▪︎ Delivered free travel for our older people;
▪︎ Protected access to higher education;
▪︎ Defended health and education;
▪︎ Supported small business.
We have achieved all of this despite huge cuts to our local budgets imposed by Westminster. It is this vision, leadership and credible alternatives to austerity which Sinn Féin will deliver to all the people of Ireland within the context of a united Ireland.
No one given the task of designing the best economic, social and political model for an island of 6.4million people would dream of separating the north-east corner from the rest of the country and, in turn, creating two separate competing currencies, tax systems, legal frameworks and two administrations.
Let's be clear – simply maintaining the status quo in the form of two separate competing economies on a tiny island will not deliver prosperity for the people of this island.
There are no advantages for a small island nation on the edge of Europe having separate tax regimes, regulatory and legal systems, disparate economic development agencies and programmes, divergent and competing investment strategies and economic policies.
The transition towards Irish unity offers us a once-in-a-generation opportunity to reshape a nation.
Reunification will not be the endpoint. The end will be the nation we can build with freedom and powers that unity will give us.
We can deliver a real republic. We can build the kind of Ireland envisaged in the Proclamation.
"The Republic guarantees religious and civil liberty, equal rights and equal opportunities to all its citizens."
A nation confident in ourselves taking our place together in the world.
We are stronger together than we can ever be apart.