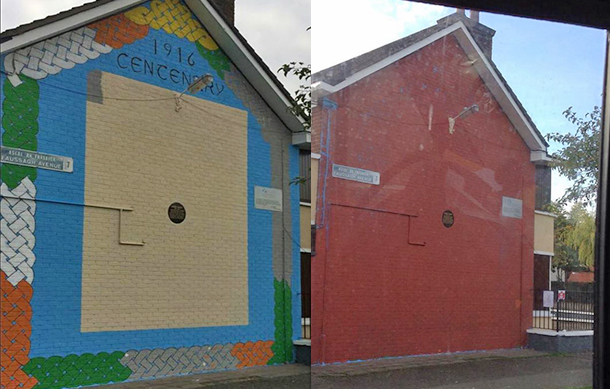 THERE is anger in Cabra, Dublin, after a mural which was in the process of being completed to mark the 100th anniversary of the 1916 Easter Rising was removed by Dublin City Council's housing department in the early hours of the morning.
Cabra 1916 Commemoration Committee, which is made-up of local residents from a number of community groups, said in a statement:
"We are saddened by this act. The mural is only one part of a number of planned events which we have submitted to the council over four months ago."
The Committee said other plans for the area include re-enactments, Irish language and cultural events, exhibitions, sporting competitions, the publication of a book on the history of nearby Grangegorman Cemetery and plans for a memorial to Cumann na mBan.
"We are asking our community and local representatives to support our programme of events and our further options and actions in relation to the mural," the Committee said.
The mural at the Canon Burke complex on Faussagh Avenue had received widespread from local residents and elected representatives, and in July a motion in support of the plan was approved by the Council's North West Area Committee.