Author of 'Lethal Allies: British Collusion in Ireland' in Australia from 20 June
THE author of Lethal Allies: British Collusion in Ireland – an exposé of the British state working had in glove with unionist death squads and with evidence from official documents – will beon a speaking tour of Australia this month.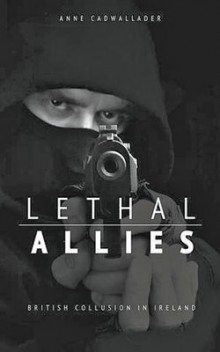 Prominent political commentator and investigative journalist Vincent Browne called Lethal Allies "a revealing and forensic insight".
Anne Cadwallader, a former BBC and RTÉ journalist in the North of Ireland and now a researcher with the Pat Finucane Centre human rights NGO has tour dates in five major cities from 20 June:
PERTH: Saturday 20 June @ 2pm. Trades Hall, Unity House, 77-79 Stirling Street.
ADELAIDE: Monday 22 June @ 6:30pm, Irish Club.
SYDNEY: Tuesday 23 June @ 7.30pm, Gaelic Club, 1/64 Devonshire St, Surry Hills.
MELBOURNE: Friday 26 June @ 4pm, Celtic Club, Cnr La Trobe and Queen Sts.
BRISBANE: Sunday 28 June @ 4pm, University of Queensland (room TBC).
All events are free and open to the public without prior booking.
"One of the most important books about the dirty war fought in Northern Ireland during the 30 years between 1968 and 1998.
"Lethal Allies: British Collusion in Ireland offers "indisputable evidence of security forces collusion" with loyalist paramilitaries.
"It alleges that members of the police force, the Royal Ulster Constabulary (RUC), and Ulster Defence Regiment (UDR) were part of a loyalist gang that killed more than 100 people in just one small area in the 1970s . . ."