British Government again snubs Taoiseach's call for release of Dublin/Monaghan bombs files
THE Taoiseach has been snubbed by the British Government after he again sought the release of their files and papers relating to the May 1974 Dublin and Monaghan bombings.
Thirty-four people were killed, including an unborn child, and almost 300 injured when three no-warning car-bombs exploded during rush-hour in Dublin and a fourth in Monaghan town on 17 May 1974.
The unionist Ulster Volunteer Force claimed responsibility for the well-co-ordinated attacks, which have all the appearances of being carried out with the assistance of British state forces. No one has been convicted of the attacks.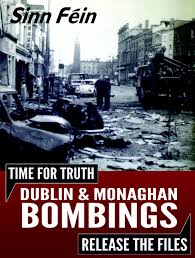 Today's Irish Times reports that Foreign Affairs Minister Charlie Flanagan pointed out that Taoiseach Enda Kenny, on a recent visit to Belfast, made clear the importance the Irish Government attached to disclosure and co-operation in dealing with the legacy. Despite this, the British have stonewalled a friendly neighbouring government's important request.
Now the Irish Government is waiting for a new Secretary of State for the North to be appointed after the 7 May Westminster general election before he makes another approach, one of many over several years.
The minister said he would continue to ask the British Government to give them access to an independent international judicial figure and original documents it had relating to the bombings.
Meanwhile, the questions remain to be answered as to why the British authorities are not co-operating, and what will happen if the Tories once again dominate the new government after 7 May?