British state sued by Glenanne Gang bomb victim
A WOMAN injured in a no-warning bomb planted by a gang made up of serving RUC police officers and British Army soldiers working with unionist paramilitaries under the control of British Military Intelligence is taking a civil action against the British state.
Two people were killed in the attack by the notorious Glenanne Gang on the Step Inn, in Keady, south Armagh, in August 1976.
It has emerged that the vehicle used to carry the bomb was hidden on the farm of an RUC Reservist prior to the fatal attack.
Maria McShane, who was pregnant at the time, lost an eye in the explosion that killed Elizabeth McDonald and Gerard Gleenan. Now she is launching a legal action against the British state.
Tragically, the baby boy that Maria gave birth to, Gavin, was himself shot dead by a UVF gang in 1994.
The 17-year-old and his friend, Shane McArdle, were on a break from school when they were gunned down.
The killer, believed to be a member of the rabidly sectarian Portadown UVF gang run by Billy Wright, didn't wear a mask, so confident he was that the RUC would not move against him.
The gun used in that attack was an RUC-issue "personal protection weapon" that is thought not to have been used prior to or after the double killing.
It has also emerged that the RUC destroyed evidence relating to the shootings.
Now, in a bid to expose the links between Gavin's UVF killers and the British state, Maria is taking action against the RUC over its failure to properly investigate the killing.
The gunman is now believed to be a senior member of a Christian church organisation in County Armagh who was never questioned about the killing.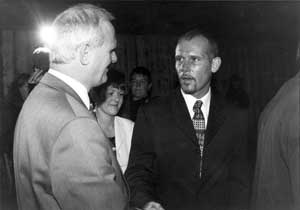 ● DUP's Willie McCrea MP with Billy Wright