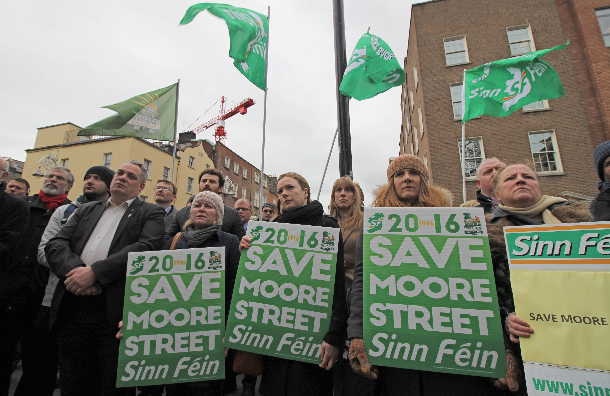 PROTESTERS gathered outside Leinster House on Wednesday afternoon to demand that the Government protect the historic Moore Street terrace in its entirety, the site of the last headquarters of the Provisional Government during the 1916 Rising.
Speaking to the crowd, Mary Lou McDonald TD accused the Government of selling-off the family silver via the National Asset Management Agency (NAMA):
"It is a disgrace. It is a national scandal. This friends, shows the complete arrogance and contempt to which this Fine Gael and Labour Government have towards the Irish people and they're time is now up – It is time for them to go!" she said to applause.
"Today, from this rally we demand that the outgoing Taoiseach Mr Enda Kenny sits up and takes note. Sending in the bulldozers to Moore Street is not acceptable and will not be tolerated. "
An occupation of the site, some of which is designated a national monument, took place last week in opposition to demolition works on part of the terrace. The occupation only ended when a two week stay was placed on work pending a court case.
One of the organisers of the Save Moore Street campaign, Patrick Cooney spoke at the event outlining how the families of the 1916 leaders have campaigned for 15 years for the area to be preserved as a battlefield site and a fitting tribute to Ireland's patriots.
"On the 2nd February we will be going into the Courts with all our determination and history behind us to win Moore Street. It's not going to be easy and we have to keep the campaign rolling and make sure everybody is involved."
He also applauded those who had occupied the terrace.
Mary Lou McDonald also called for unity across political divides on the Moore Street:
"Let's stand together united, in this the 100th anniversary of 1916 to honour the men and women who fought for a real Republic, and resist the destruction by this Government of our national heritage and culture."
Those present at the event included TDs and Senators from Sinn Féin, including Gerry Adams TD as well as the Mayor of Dublin City Críona Ní Dhálaigh and the Mayor of South Dublin Sarah Holland. Independent TDs were also in attendance.