Derry ceremony to remember young Pádraig Barton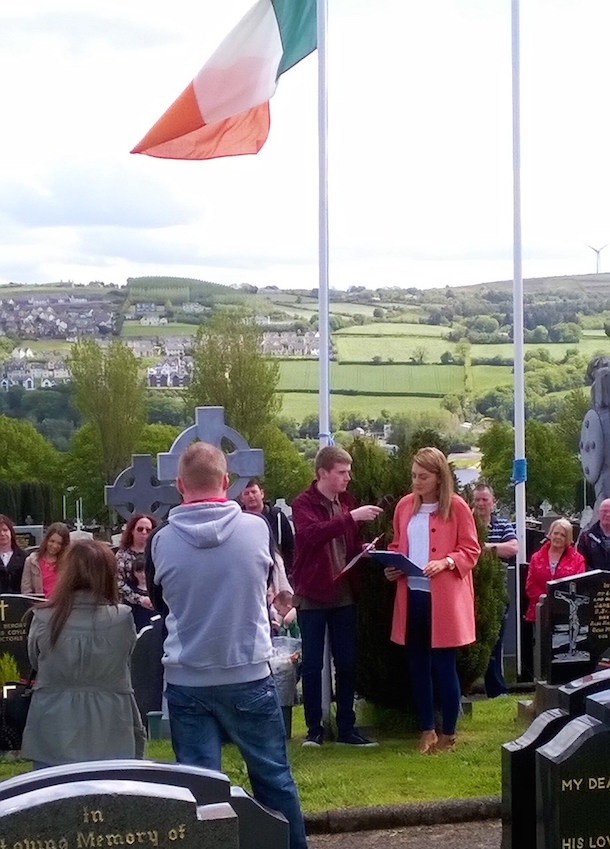 A CROWD of a hundred people gathered in the bright sunshine in Derry's City Cemetery on Sunday afternoon for a wreath-laying ceremony to mark the fifth anniversary of the death of a young Derry republican Pádraig Barton.
The event was chaired by Caolán McGinley and the main speaker was Nicole Ní Láimhbheartáin
Pádraig was involved in an accident outside Derry City in the early hours of Sunday morning, 6 June 2010 and tragically passed away in Altnagelvin Hospital the following day.
Nicole said:
"Pádraig was a well-known, extremely dedicated and likeable Ógra activist who will be fondly and proudly remembered by the many who met him, whether on their travels to the annual Bloody Sunday Weekend, at the Hunger-Strike Republican Youth Weekend in Derry, or the many national Ógra Shinn Féin events which he attended. He was also a seller of An Phoblacht from the age of 11.
"Pádraig, came from a family steeped in republican politics. His grandfather was republican stalwart Seán Keenan; his uncle, Óglach Colm Keenan, was killed unarmed with his comrade, Óglach Eugene McGillan; he has had relatives imprisoned for their role in the struggle and his family has endured the harassment and degradation wrought by the British state during the most recent phase of the conflict.
"He lived for many things: his friends and family, his beloved Stoke City FC, and republicanism, which he embraced through his activism in Ógra Shinn Féin.
"Pádraig was also very intelligent and academically astute, having just completed his A-Levels in St Columb's, Derry, and was set for going to university.
"We are buoyed by his memory. We are extremely proud and honoured to have worked with and known such an inspirational and gifted young man, and we will do all in our utmost to keep his memory alive and to achieve all that he strived for in his short yet full life."