Europe's shame: Refugee drowning horror in the Mediterranean
THE horror of the recent mass drownings of refugees in the Mediterranean was recounted to MEPs by survivors who they met at holding centres in Italy during a GUE/NGL mission in June.
So far in 2015, more than 2,000 people have drowned attempting to reach Europe across the Mediterranean in rickety, overcrowded boats and barges. Most are fleeing wars, violence and persecution in the Middle East, Africa and further afield.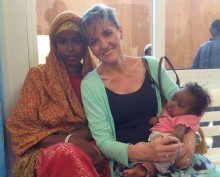 The delegation, which included Irish MEP Martina Anderson, visited reception centres on the islands of Lampedusa and Sicily where they met with survivors, rescue workers, aid workers, the Italian Coast Guard and the Mayor of Lampedusa – to discuss the situation and report back on what facilities and assistance are needed.
The delegation say that in one reception centre in Sicily – already crammed to capacity – they met a 98 year-old Syrian man who had fled the civil war in his country along with a mother and her five-day-old baby who was born at sea. They also visited a centre for unaccompanied minors where more than 60 children are staying.
Many of those who arrive are in need of medical treatment and some require special care for post-traumatic stress disorder.
After visiting refugees at a centre in Pozallo in Sicily, the Sinn Féin MEP said that Irish people understand the plight of these people "We had our own coffin ships," she said of those who perished trying to make a better life. The former IRA prisoner also hit out at the conditions in which survivors were kept, describing some of the holding centres as "worse than any prison I know".
When a young Somalian boy asked the delegation, "Is this Europe? Is all Europe like this?" the members said they felt unable to answer. "Europe is doing everything wrong. The same Europe that created the wars and the conflicts these women, men and children have been escaping deprive the same persons of any rights once they reach Europe," said MEP Angela Vallina.
In a meeting with a commander of the Italian Coast Guards the delegation was informed that most of the boats in crossing the Mediterranean do not have people smugglers onboard:
"We have to understand why people want to come to Europe, if we destroy boats, the people will find another way," said Commander Cannarile. "Do we want these people to stay in Libya? That is a humanitarian problem." He says the only way to resolve this problem is through humanitarian corridors that would enable refugees to reach Europe without risking their lives at sea.
Ending the delegation, Martina Anderson MEP said what they had seen and learned in Lampedusa and Sicily had made the MEPs more determined to do allthey can to help those refugees who survived the crossing and not to forget those who died "trying to live".