THE Fine Gael/Labour Government is in deep crisis, Sinn Féin President Gerry Adams TD told an internal party conference attended by 500 grassroots activists in Dublin on Saturday.
He also called for the biggest possible mobilisation for the Right2Water rally in Dublin on December 10th.
"As each day passes, it is clearer that it will struggle to stay in office until the end of its term.
"Tá an chomhdháil seo inniu mar pháirt d'ullmhúcháin Shinn Féin le go mbeidh muid réidh don lá nuair a chaithfidh an droch-rialtas seo, guth a thabhairt do na doine a rá cén cineál rialtais atá siad ag iarraidh."
The Sinn Féin leader said that this Government has broken most of the promises it made during the last general election and "Fine Gael, with the support of Labour, have imposed relentless austerity on struggling families and vulnerable citizens".
He said Fine Gael and Labour have failed to deliver on any commitment to political reform, accountability or parliamentary effectiveness even though the electorate voted last year in favour of reform in the Seanad and across the political system.
"There been no Seanad reform.
"Instead, this Government has used and abused the Dáil, the Seanad, sboards and ministerial positions to a degree that would make even Fianna Fáil blush!
"Yet again, this week, the Tánaiste would not answer a straightforward question put to her by Mary Lou McDonald.
"The Taoiseach does that regularly with me. 
"Sinn Féin in the Dáil voices the concerns of countless thousands of citizens. That is our mandate.
"Yet, time and time again, the Tánaiste and the Taoiseach refuse to answer straightforward questions.  The Ceann Comhairle continually allows ministers to get away with this.
"Is é is bunús le parlaimint ar bith ná go gcoinníonn an freasúra súil ghéar ar an rialtas.
"Ní tharlaíonn sé seo sa Dáil.
"Bíonn an Ceann Comhairle i gcónaí fábhrach d'Airí Rialtais agus don Taoiseach.
"The Ceann Comhairle's treatment of Mary Lou on Thursday was unfair and petulant.
"She asked legitimate and appropriate questions about whether water charges would be deducted from the pensions, social welfare and wages of those who cannot afford to pay.
"His refusal to return to the Dàil chamber until Mary Lou left was silly and bizarre, especially when she sat tight – quite rightly – and refused to meekly serve her time. 
"Given his treatment of Opposition parties and Independents, and particularly Sinn Féin, I have no confidence in the Ceann Comhairle."
Gerry Adams said that rather than use the exit from the EU/IMF bail-out agreement on 15 December to provide relief to those hit hardest by austerity, the Government inflicted further painful measures.
"Fine Gael and Labour can no longer hide behind the Troika for their decisions. They cannot say that 'the big boys made them do it'."
He pointed to the unavoidable resignation of Fine Gael Justice Minister Alan Shatter over Garda Síochána Ombudsman's Office affair, the treatment of whistleblowers on Garda corruption; also Eamon Gilmore's  resignation as Minister of Foreign Affairs, Tánaiste and leader of the Labour Party in the wake of his party's disastrous performance in May's EU and local elections.
"Eamon Gilmore got out just in time."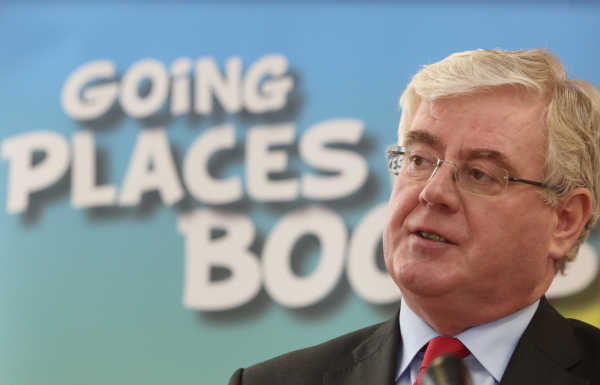 Yet more woes befell the Government with the Seanad 'McNultygate' scandal and two by-election defeats for the Government as well as losing its Seanad majority.
"The Budget was an opportunity to give people a break.
"Instead citizens got water charges, Property Tax, no help for carers, no investment in mental health, and a cut to the top rate of tax, rewarding a wealthy minority.
"The Government failed to listen to citizens and now faces its deepest crisis yet.
"This Government's Frankenstein creation – Irish Water – has been characterised by excessive spending on consultants, bonuses and cronyism.
"Léirigh Sinn Féin gur féidir leis an Stát íoc as seirbhís uisce den chéad scoth gan bac a chur ar an lucht oibre. Mar pháirt d'aon rialtas gheobhadh muid réidh le táillí uisce. Tá sin déanta again sa Tuaisceart. 
"Sinn Féin is part of the Right2Water campaign.  I am calling for the biggest possible mobilisation on December 10th to demonstrate the continued widespread opposition to water charges."
Turning to this week's Irish Government programme to mark the centenary of the 1916 Easter Rising, Gerry Adams said:
"This incompetent Government, which has no intention of fulfilling the vision of the 1916 Proclamation, is now determined to dishonour its legacy.
"This week – under mounting pressure due to the fact that, after three years, it clearly had no plan for marking the Rising's 100th anniversary – it produced a glossy brochure devoid of historical substance or detail."
Gerry Adams said that and Assembly Junior Minister Jennifer McCann were in the GPO at the launch.
"Outside, the rebellious noise of anti-water charge protesters drowned out the self-serving ministerial speeches. 
"The video to launch Ireland 2016 makes no mention of the Easter Rising or of the signatories of the Proclamation.
"Going by this corporate-style video, the Government believes that the Rising was about Facebook, Google, Bob Geldof, Bono, David Cameron and the English queen!
"This effort and the fig leaf production of a flimsy commemorative brochure are deeply disrespectful to the men and women of 1916 and betray a cynical indifference to their ideals, hopes and vision. 
"It seems that John Bruton won the argument about how the Government should proceed on this important issue."
But the Fine Gael/Labour Government's vision of 2016 is no accident, Gerry Adams said.
"The reason this Government won't mark the Rising appropriately is because it is opposed to the political, social and economic intent of the 1916 Proclamation.
"Despite this shameful official neglect, ordinary Irish citizens, North and South, and the Irish Diaspora will celebrate and educate and pay tribute to the brave men and women of 1916."They will be joined by Sinn Féin.
"And Sinn Féin will continue to work to make the Proclamation a reality in an independent, united Ireland with peace and genuine reconciliation between all who live here."
Referring to the political talks in the North that are "finally underway", Gerry Adams said, though, "there is no evidence of a start to the type of credible negotiations that are required to unlock the impasse in the political process".
He said Sinn Féin's priority is to defend and to progress the "hugely significant political advances" that have been made over the past 20 years.
"It is of crucial importance however that the Irish Government adopts the same unambiguous pro-Agreement position and very clearly hold the British Government to account in relation to its obligations."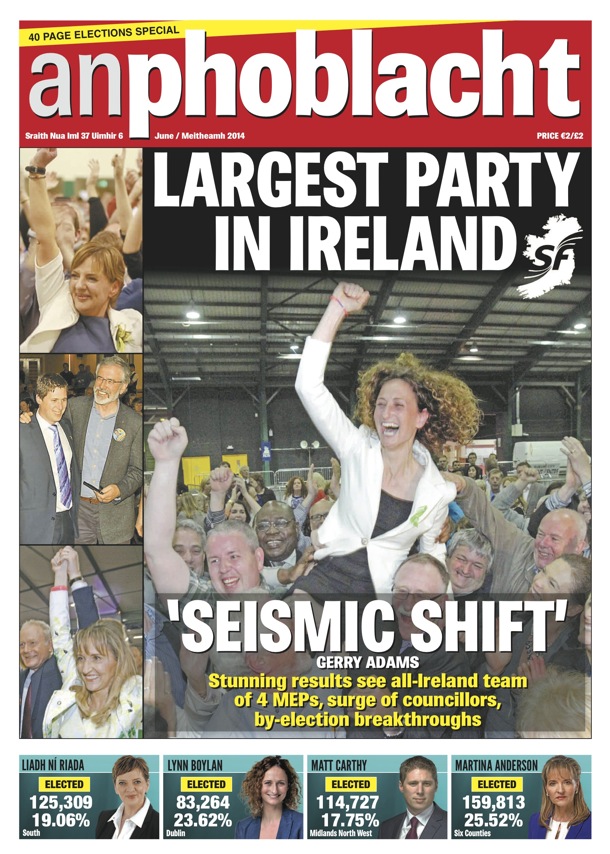 In an effort to stem rising public support for Sinn Féin, it is clear that Fine Gael, Labour and Fianna Fáil will employ any dirty trick, lie, or disgusting allegation, the Sinn Féin leader said.
"That now includes the vile slur that Sinn Féin is involved in a cover-up of sexual abuse cases. But – despite the tsunami of anti-Sinn Féin propaganda – our activists and members should hold your heads high. Our commitment is to support and  to help victims and survivors and to honestly face up to any failures in the past. Be sure of this – Sinn Féin has not been involved in any cover-up."
The veteran republican leader emphasised:
"Any  abuser within republicanism has done grievous wrongs to their victims. They did not do this in our name. They have sullied our cause.
"But they are not in any way representative of the tens of thousands of republican activists who served the republican cause in the ranks of the IRA and Sinn Féin.
"They are not representative of the tens of thousands of republican prisoners who served hard time for the republican cause. Or of our patriot dead.
"They are not representative of the hundreds of thousands of citizens, North and South, who vote for Sinn Féin."
Gerry Adams said this "mud slinging" by political opponents is a sign of their political desperation.
"It is about trying to blunt the growth of Sinn Féin and our potential for gains at the next general election. It will not succeed. The people are not stupid.
"Sinn Féin believes in a real Republic, a citizen-centred, rights-based society. That is the fundamental ideological difference between Sinn Féin and this deeply unpopular government.
"That message is finding a deep resonance among citizens the length and breadth of this country. More citizens voted for Sinn Féin in 2014 than in the famous election of 1918.
"Today's conference marks the next step in building a strong Irish republican party focused on uniting Ireland and committed to achieving real political, social and economic change.
"Ar aghaidh linn."