Fianna Fáil must reflect on its 'disastrous interventions' on Northern issues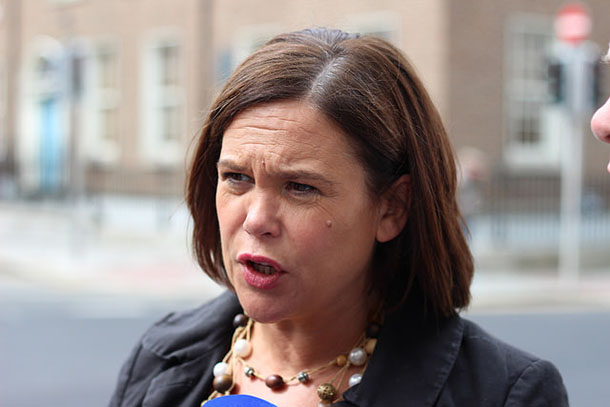 FINE Gael, Fianna Fáil, Labour and the Anti-Austerity Alliance teamed-up in the Dáil on Wednesday to exploit a debate on the North and the recent Fresh Start Agreement to attack Sinn Féin.
The decision by these parties to zero-in on Sinn Féin rather than address issues on the North was criticised by Gerry Adams, as well as deputies from other parties.
Clare Daly of the United Left described the broadside against the republican party as "utterly pathetic" while Richard Boyd Barrett of People Before Profit described it as "petty point-scoring".
Mary Lou McDonald TD of Sinn Féin said securing the 'Fresh Start Agreement' was challenging due to both the British and Irish governments being on the side of austerity and against the rights of victims to full disclosure about what happened to their loved ones:
"However Sinn Féin stood up for ordinary citizens. We have secured additional monies for the Executive which will help minimise some of the worst excesses of British Government austerity," she said.
Mary Lou added that the Tories have no mandate for their austerity policies in the North and that austerity for citizens in the Six Counties is clearly "the price of the union with Britain".
Gerry Adams questioned the motivations of parties in the South who have repeatedly attempted to undermine the agreement – particularly Fianna Fáil who have changed their stance on various issues:
"The Socialist Party [AKA Anti-Austerity Alliance] at least are consistent," said Gerry Adams, "They are against the Good Friday Agreement and all the other agreements, though I note they are not against partition."
While accepting they had a right to critique the Agreement, Adams said:
"Lets be clear, without last week's agreement the door would be open for direct rule from Westminster and the full weight of a Tory assault on the welfare state."
Mary Lou McDonald hit out at Fianna Fáil leader Micheál Martin for his unhelpful and downright stupid interventions in the North:
"Fianna Fáil sided with the unionists and sought to bring down the institutions," she said. "I hope they will reflect on their continued disastrous interventions when it comes to the North, and to stop using these issues as a political football inside and outside this House."
Gerry Adams condemned the continued cover-up of files relating to British state collusion and the failure of the Irish Government to work for full-disclosure from the British government:
"When I raised these matters with the Taoiseach yesterday, Enda Kenny drew our attention to the way U2 have publicised the campaign for the 'Justice for the Forgotten'. I agree with the Taoiseach on this, in fact U2 have done more internationally to highlight Justice for the Forgotten than this Government," Adams said.
Finishing up, the Louth TD said that a united Ireland would best secure prosperity for the people of this island:
"As we approach the centenary of 1916, those of us who want a united Ireland need to be active persuaders of that vision, both with the British Government and our Unionist neighbours, along with defending the process of change, the political institutions and the primacy of politics."