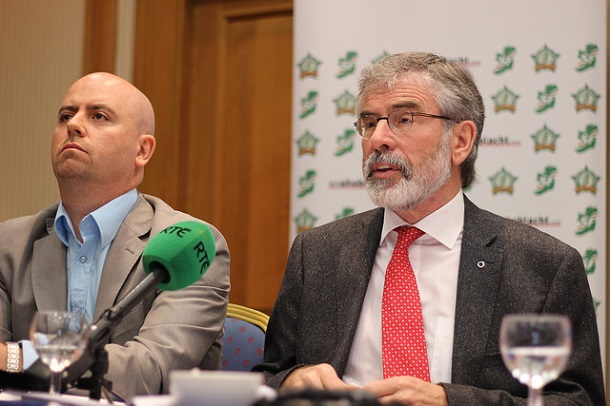 SINN FÉIN President Gerry Adams TD has apologised for his use of the term "bastards" to describe bigots, homophobes and racists within unionism who oppose equality.
Gerry Adams reiterated his substantial point that bigotry needs to be tackled through education and equality.
Speaking at a public meeting in Enniskillen on Monday night, Gerry Adams was asked by a member of the audience what the point was of sharing power with "bigots, homophobes and racists" within the DUP.
Adams responded to the question, saying:
"The point is to break these bastards. And what's going to break them is equality. That's what's going to break them – equality. 
"Who could be afraid of equality? Who could be afraid of treating somebody the way you want to be treated? And that's what we need to keep the focus on."
Immediately, unionists jumped on the comments, claiming a false equivalence between Gerry Adams's use of a swear-word to the DUP East Derry MP Gregory Campbell's tirade of abuse intentionally directed towards Irish-speakers over the last week.
The DUP MP was cheered and applauded at a DUP conference on Saturday for making offensive remarks about Irish-speakers and mocking the language.
Campbell said he would treat calls for an Irish Language Act and Bill of Rights "like toilet paper". Despite outrage over the remarks, the DUP did not condemn the former Culture Minister.
Yet the DUP were quick out of the traps following Gerry Adams's utterance of a swear word. Arlene Foster, apparently without irony, claimed Adams had been "disrespectful to an entire community".
Gerry Adams posted from his Twitter account after the event, saying he shouldn't call bigots, racists or homophobes 'bastards'" but reiterated that only equality and education could "break them".  
Deputy First Minister Martin McGuinness told RTÉ's Morning Ireland:
"Gerry shouldn't have said it and he did apologise and I think that is in strong contrast to others who have made much more offensive remarks who have not apologised. 
"I think it's very important to say the context Gerry made the remarks was in the context of people who were homophobes, racists or sectarian bigots. But that doesn't excuse the use of the word."
◼︎ On BBC Radio Ulster's Talkback show with William Crawley on Tuesday, Gerry Adams said he was sorry for his use of the word "bastards" and if he "made a hames" of what he was saying but he stood by the substance of the points he was trying to make.