Government action can stop exploitation of workers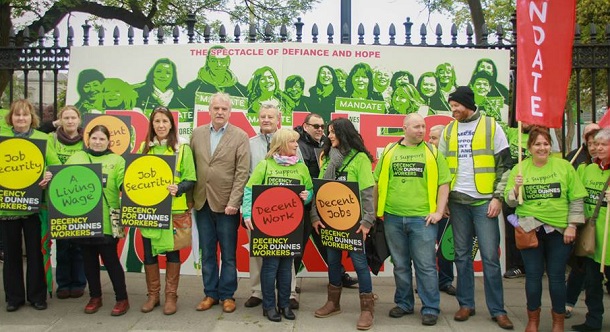 THE EXPLOITATION of workers through the use of low and zero-hour contracts can be ended if the Government is willing to enact legislation to protect workers rights, Dublin MEP Lynn Boylan has said.
The Sinn Féin MEP made her comments at a rally outside Dunnes Stores head office on Saturday where hundreds of people marched in support of Dunnes Stores workers who went on strike earlier this year calling for fair pay, fair hours, job security and the right to trade union representation.
"People deserve decency in the workplace. This means fair pay, fair contracts and fair treatment. Dunnes Stores workers are being denied this. The blame lies with their employers, Dunnes Stores, but it also lies with the government because we don't have legislation in place that gives adequate protection to workers," she said.
She said the current collective bargaining legislation and the scope of the Low Pay Commission are not enough to adequately tackle the exploitation of workers:
"What is needed is fair hour's legislation that will deal more comprehensively with low hour contracts. Existing legislation is simply insufficient. Sinn Féin has brought forward legislation to protect workers and have proper trade union representation. However these proposals were voted down by the government."