'I want my memorial to be Peace with Justice' – Frank Stagg, died in an English prison, 12 February 1976
Credit An Phoblacht.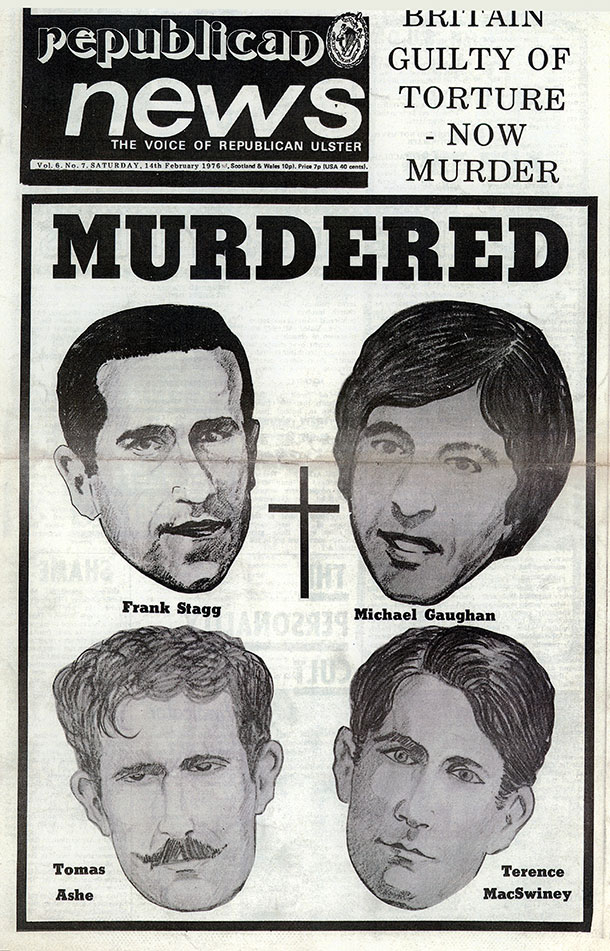 'We are a risen people. This time we must not be driven into the gutter, even if this should mean dying for justice. The fight must go on. I want my memorial to be Peace with Justice'
OF THE 22 Irish republicans who died on hunger strike, three died in prisons in England. They were Terence Mac Swiney in Brixton Prison, London, in 1920; Michael Gaughan in Parkhurst Prison, Isle of Wight, in 1974; and Frank Stagg in Wakefield Prison, Yorkshire, in 1976. 
Gaughan and Stagg were both Mayomen, two of the many thousands who emigrated from their native county in the 1960s and 1970s.
Frank Stagg was born near Hollymount, County Mayo, in 1941. He emigrated to England where he worked as a bus conductor and driver. He married Bridie Armstrong in 1970. Frank Stagg joined Sinn Féin in Luton in 1972 and shortly afterwards joined the IRA. The Six Counties were in political turmoil as the British Government tried to suppress the republican people with brutal military force. Solidarity with the struggle reached across the Irish Diaspora, not least among the Irish in Britain.
 Frank Stagg was known for his prowess at Gaelic football and handball
The IRA began a bombing campaign in Britain in 1972. Widespread arrests and jailings followed, with the British authorities making  use of catch-all conspiracy laws that allowed judges to convict with little or no evidence beyond the word of the police. Frank Stagg was arrested in April 1973 and charged with conspiring to commit arson.  The following November he was sentenced to ten years in prison, having been described at his trial as the Officer Commanding the Coventry unit of the IRA.
Irish republican prisoners in England faced brutality, isolation and frequent moves from prison to prison. This was Stagg's experience from the beginning and from his first day in prison he asserted his right to be treated as a political prisoner. In Albany, Parkhurst, Long Lartin and Wakefield prisons he was held in solitary confinement. Another republican prisoner held in solitary in that period was the late Raymond McLaughlin from Donegal, father of Sinn Féin Donegal North-East candidate Pádraig Mac Lochlainn, He described his feelings:
"The political prisoner has an advantage over ordinary prisoners here because of his strong feelings of comradeship with his comrades who may be languishing in the same prison or in any one of the British and Irish prisons.
"He thinks about the guerrilla campaign, its successes and failures; about his own operations and any mistakes he resolves never to make again. He brushes up on the theory of guerrilla warfare as adopted by himself; he makes mental notes about questions he will ask his comrades when he gets back into circulation again.
"He ponders over the hypocrisy and sheer opportunism of the average politician and vows that this type of politician will never emerge in 'Eire Nua'."
In March 1974, Frank Stagg and Michael Gaughan joined the hunger strike of their comrades from Belfast, the Price sisters, Hugh Feeney and Gerry Kelly, now an MLA for North Belfast and a junior minister in the Assembly Executive. The prisoners were brutally force-fed, a form of torture in which prison doctors participated. This resulted in the death of Michael Gaughan on June 3rd 1974. Frank Stagg fasted for 70 days during that strike.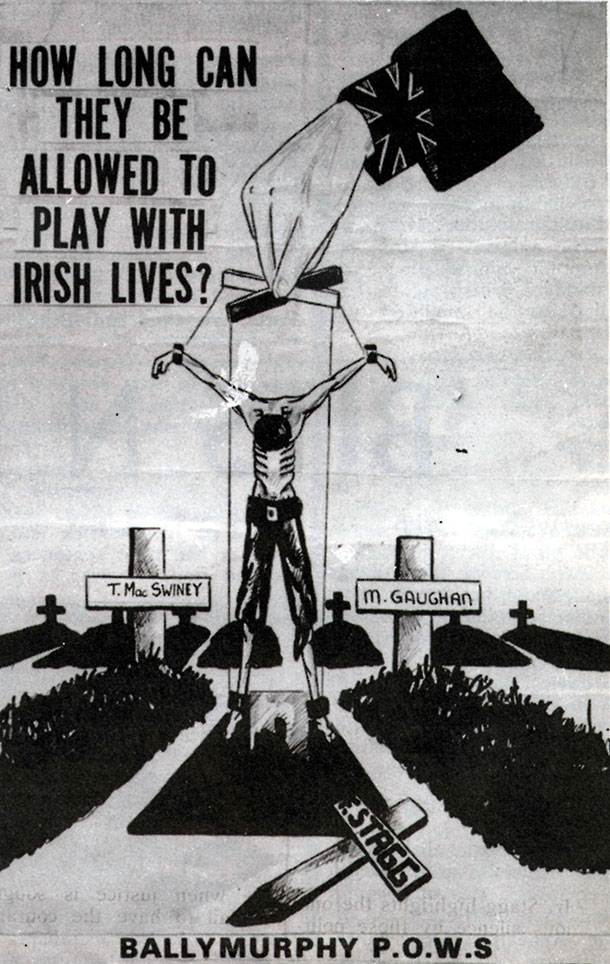 Ballymurphy POWs show support
In 1975, Stagg wrote to his father, reflecting on the political situation in Ireland. (The politicians referred to in the letter are members of the Fine Gael/Labour Government: Paddy Cooney, Conor Cruise O'Brien and Garret FitzGerald, Emmet is Emmet Stagg, Frank's brother, today a Labour TD.)
"I see our men in Portlaoise and the Curragh are still on hunger strike and Cooney seems as determined as ever to let them die… I have started on a seven-day token fast in sympathy with them this week myself.
"It really is a scandal that the people allow this man Cooney to carry on the way he does. I suppose Emmet is still clinging to the coat-tails of Conor Cruise O'Brien and FitzGerald. God help Ireland to be in the hands of such traitors."
Frank Stagg's final hunger strike began on December 14th 1975. It was endured in appalling conditions. The Catholic Bishop of Leeds, Dr Wheeler, ordered that the republican prisoner be denied the sacraments of the church. Among the psychological efforts to break Stagg was the placing of an empty coffin across the landing within sight of his cell.
In a message to the Republican Movement, Frank Stagg wrote:
"We are a risen people. This time we must not be driven into the gutter, even if this should mean dying for justice. The fight must go on. I want my memorial to be Peace with Justice."
Protest in Dublin after Frank's death
On February 12th 1976, Frank Stagg died after fasting for 62 days. His ordeal was not over. Against his own expressed wishes and those of his family, his body was hijacked by the Fine Gael/Labour Government who had it flown to Shannon Airport and locked in the mortuary from which famly members were excluded.
Frank's body was then taken to Ballina where it was buried by the Garda Special Branch who had six feet of concrete poured on the coffin to prevent reburial. This was all to stop him being honoured with a republican funeral as his comrade Michael Gaughan had been, with thousands of people paying their respects in London, Dublin and across Ireland to Ballina.
But Frank Stagg's wishes were fulfilled on November 6th 1976 when IRA Volunteers re-interred him in the Republican Plot beside Michael Gaughan in Leigue Cemetery, Ballina.
Volunteer Frank Stagg died on hunger strike 35 years ago this month