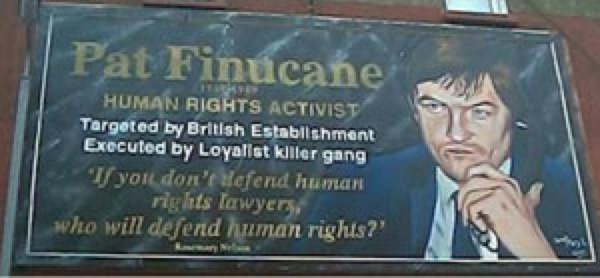 THE WIDOW of Belfast human rights lawyer Patrick Finucane, who was shot dead by the UDA on 12 February 1989, has lodged an appeal against the judgment and order of Justice Stephens on 8 September that the Secretary of State was justified in reneging upon a commitment made at Weston Park that if a public inquiry into Pat's murder was recommended by retired Canadian judge Justice Peter Cory then the British Government would establish a public inquiry.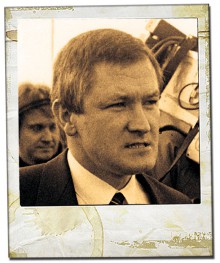 ● Pat Finucane
Geraldine Finucane's solicitor, Peter Madden of Madden & Finucane, said on Wednesday:
"It was demonstrated by internal communications between the Secretary of State and his officials, and in documentation disclosed in the course of the judicial review application, that the Secretary of State had already closed his mind to the type of inquiry envisaged by Judge Cory and promised by the British Government in 2001.
"He had engaged in a sham exercise, inviting representations from the family as to the model of inquiry which would be acceptable to them in circumstances where he had absolutely no intention of establishing such an inquiry.
"A full independent and international tribunal of inquiry – where documents will be examined in public and witnesses shall be compelled to attend and be cross-examined by Geraldine's lawyers – remains the only model capable of achieving the truth of Pat's murder."
◼︎ Patrick Corrigan, Amnesty International Programme Director for the Six Counties, has previously said that Westminster's failure to hold an independent public inquiry into the circumstances of Pat Finucane's death "risks fatally undermining public confidence in Britain's commitment to deal honestly with the past in Northern Ireland".
He added that "extensive and compelling evidence has emerged which shows that security personnel colluded with loyalist paramilitary groups" in the killing, saying:
"In the Stormont House Agreement, the UK and other parties signed up for a human rights compliant process to deal with 30 years of killings in Northern Ireland. It is vital for public confidence in that process for Britain to honour its previous commitment to an independent public inquiry.
"At this point, everyone accepts that this was a brutal murder of a lawyer, carried out in partnership with the UK state.
"Yet the continued refusal to air this case in public and get at the truth of allegations risks fatally undermining public confidence in Britain's commitment to deal with the past in Northern Ireland. Given the commitments made in the British-Irish Weston Park Agreement in 2001, anything less th