Refugees crisis – Ireland should do more, say Sinn Féin leaders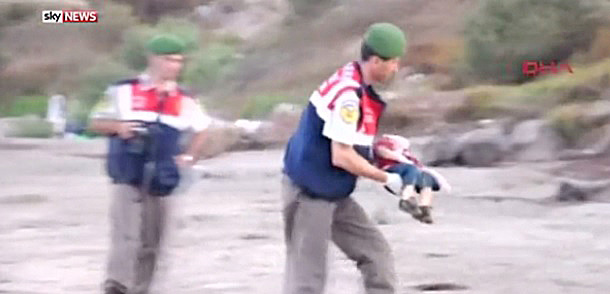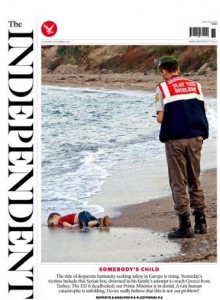 IRELAND should do more to help refugees fleeing war-torn and economically-devastated states, Sinn Féin leaders said again as even the right-wing mainstream media revised or at least moderated its anti-refugee rhetoric in the wake of a heart-rending photograph of the body of three-year-old Aylan Kurdi washed up on a beach in Turkey after he drowned attempting to reach Greece.
Aylan and his five-year-old brother (who also drowned) came from the northern Syrian town of Kobani, where Kurdish forces have been tenaciously resisting Islamic State assaults.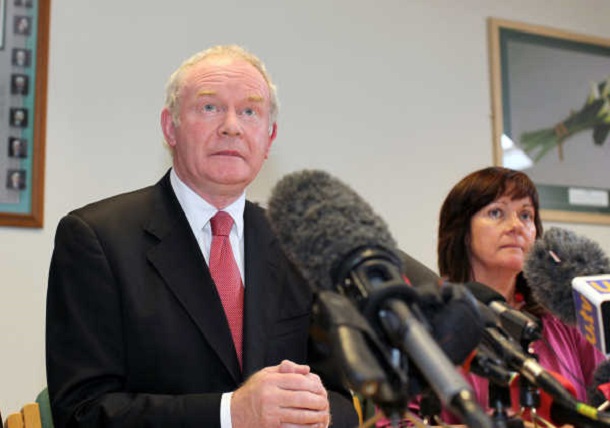 ● Martin McGuinness and Jennifer McCann
Sinn Féin MLA and deputy First Minister Martin McGuinness on Thursday made a direct appeal to British Prime Minister David Cameron to accept more refugees from Syria and the Middle East.
"The world has been shocked by the harrowing images which have been beamed across the globe in recent days and we all have a responsibility to do everything in our power to alleviate this growing humanitarian crisis," Martin McGuinness said.
"I spoke to David Cameron today and made a direct appeal to him to permit entry to more refugees. I have no doubt the people of the North – and indeed Scotland and Wales – would gladly welcome any moves to allow more refugees to come here. My department has already been exploring the feasibility of how we can do that."
He pointed out that Sinn Féin Junior Minister Jennifer McCann raised this very issue at the Joint Ministerial Committee in June where there was a clear view that more needs to be done to assist refugees.
● MEP Martina Anderson with a refugee family
Sinn Féin MEP Martina Anderson, who has also been vocal in highlighting the human toll that has turned the Mediterranean into a mass grave for people desperate to save their families from situations caused or prolonged by some EU states' policies, said:
"Clearly, the EU member states can and need do more to help end the suffering.
"They need to take in more refugees right across Europe to help prevent further tragedies."
Sinn Féin deputy leader Mary Lou McDonald said in Dublin that the quota of 600 refugees that Ireland has been asked to take in is "woefully inadequate" and must be re-examined.
"The Irish people share a common history with those escaping conflict and hunger. We cannot stand by and watch others experience the horrors of the coffin ships.
"Human dignity and compassion means that we all have a responsibility to protect those fleeing conflict. There should be no more photos of drowned children washed up on the shore."
The Dublin TD added that Ireland can and should do more.
"This must include increasing aid and the number of refugees accepted, ending Direct Provision, and investing in housing and public services.
"We cannot just expect refugees to join the list of already overstretched public services. This cannot be an either/or situation – we must invest in public services to meet the needs of all."
● Belfast City Council Sinn Féin Group Leader Jim McVeigh (left)
Meanwhile, Sinn Féin Belfast City Councillor and Group Leader Jim McVeigh called on Mayor Arder Carson to convene an emergency sitting of Belfast City Council to see what Belfast can do to address the refugee and humanitarian crisis unfolding across the Middle East and Europe.
Mayor Carson has called an emergency meeting of Belfast City Council for 6pm Monday "to discuss the unfolding refugee crisis".
Councillor McVeigh said:
"Images of infants being washed up onshore after fleeing, with their families, conflicts in Syria, Libya, Iraq and Kurdistan have been extremely distressing.
"No father or mother would choose lightly to make such a perilous journey for their families without just cause.
"We cannot stand by idly and let this humanitarian crisis unfold further without doing something."
◼︎ See also: The human rights elephant in our nation's room by Sue Conlan, Irish Refugee Council CEO, writing in September's An Phoblacht, in shops or online now.