Mainstream unionist leaders challenged over 'UDA attack'
THERE is serious concern after a 10-strong gang armed with iron bars and a hatchet viciously attacked a Catholic man sharing a home with his Protestant girlfriend and 11-week-old baby in a unionist area of west Belfast. UDA graffiti had been daubed on the couple's home and it has been claimed the gang shouted "Highfield UDA" in the savage sectarian home invasion at 9:30pm on Friday night.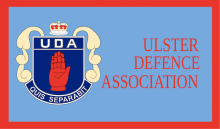 Dee Sturgeon (22), originally from the Markets area of south Belfast, had both his arms broken and a finger was almost severed. He says the gang cried: "You will never be back here again, you dirty Fenian bastard."
Declaring that he will never again feel safe in a unionist area, Dee Sturgeon said:
"I was targeted because I am a Catholic. I never had hassle with anyone."
He said he feared for his life.
On Saturday morning, he had to undergo emergency surgery to insert steel plates in his arms and 14 stitches in his lacerated legs.
The gang caused extensive damage to the house and the couple's car parked outside.
The Ulster Political Research Group, which "gives political advice" to the UDA, said claims the UDA was behind the attack were "rumours" and "untruths". Gerald Solinas of the UPRG said:
"West Belfast UPRG condemns any violent attack, from whatever quarter it comes from."
Sinn Féin MLA Pat Sheehan said the attack was "shocking" and the appearance of UDA graffiti on the victim's home "is a particularly sinister development".
●  Sinn Féin West Belfast MP Paul Maskey slammed the failure of unionist leaders Peter Robinson, Mike Nesbitt and Jim Allister to condemn the brutal sectarian assault of the Catholic man in Ballygomartin apparently by the UDA.
"What we need now is clear political leadership from Peter Robinson, Mike Nesbitt and Jim Allister whose silence on this attack has been deafening.
"Only a few weeks ago, unionist leaders walked out of talks to join representatives of the UVF and the UDA in demanding an Orange Order parade through Ardoyne, Mountainview and the Dales.
"Twenty years after the first ceasefires, the UDA and the UVF are still in existence and active. The question is why?
"Political unionism needs to face these paramilitary organisations down instead of cosying up to them for short-term political expediency