Sinn Féin and SNP discuss resistance to Tory cuts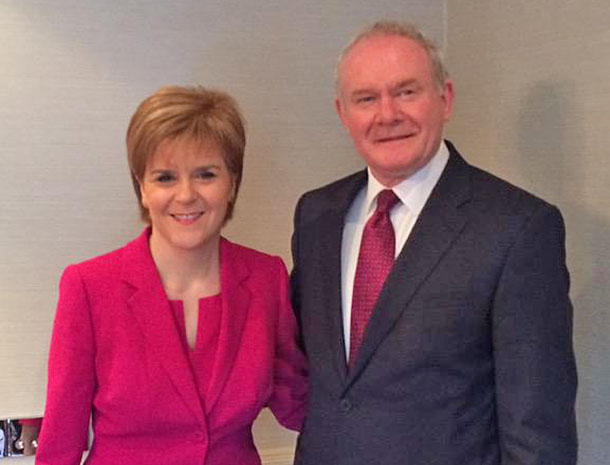 IT IS important that progressive parties work together to oppose the British Tory government's austerity agenda, Sinn Féin's Martin McGuinness said after a meeting with Scottish National Party (SNP) leader Nicola Sturgeon in Dublin on Friday.
The Deputy First Minister was speaking after a meeting with Scottish First Minister Nicola Sturgeon MSP ahead of the British–Irish Council (BIC) summit in Dublin Castle.
Martin McGuinness said he and Nicola Sturgeon had discussed issues of mutual concern:
"We are keen to work together to develop a collective opposition to the austerity-driven policies coming from Westminster. There are various areas where we share positions and these should be explored as we move forward," he said.
"In addition to our common opposition to the austerity policies of the British government, we share concerns about David Cameron's plans to scrap the Human Rights Act and the prospect of a break from the European Union. We had a positive meeting today and I look forward to building on our relationship in the future."
The BIC was set-up as part of the Good Friday Agreement and is holding its annual summit to discuss co-operation in the region. Membership of BIC consists of Government representatives from both parts of Ireland, England, Scotland, Wales, the Isle of Man, Jersey and Guernsey.