Tánaiste refuses to confirm if she will meet family of collusion victim Eddie Fullerton
THE Dáil heard today how an RUC Special Branch car was used to ferry the unionist killers of Donegal County Councillor Eddie Fullerton at his Buncrana home back across the border in May 1991.
Sinn Féin's Justice Spokesperson Pádraig Mac Lochlainn TD raised the issue of collusion between British state forces and unionist murder gangs today at Leaders' Questions and challenged the Tánaiste to meet the Fullerton family.
The Donegal TD says a witness has stated that the killer gang who gunned-down the 57-year-old councillor inside his Buncrana home were collected by an RUC Special Branch car after the murder and brought back across the border.
Deputy Mac Lochlainn also outlined how ballistic evidence shows that two of the weapons used by the killer gang to carry out the massacre of eight people at the Rising Sun Bar in Greysteel on Halloween night 1993 were the same ones used to kill Eddie Fullerton.
When the UDA gang responsible for the Greysteel massacre was in the custody of the RUC, the Gardaí were informed of the damning ballistic evidence against them, but seemingly ignored it and chose not to even bother interviewing those being held.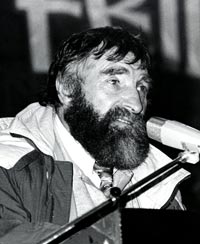 Deputy Mac Lochlainn asked how much longer the Irish Government is going to tolerate the refusal of the British Government to open up files on collusion.
Tánaiste Joan Burton said the Irish Government has consistently called on the British Government to face up to its responsibilities on the past:
"Collusion between security forces and paramilitaries was endemic. The people responsible must be brought to justice. The families of the victims deserve nothing less," she said.
However, Pádraig Mac Lochlainn said that simply "raising the issue" is not enough:
"You have a responsibility to hold the British Government to account," he told Joan Burton.
The family of Eddie Fullerton have been extremely critical of the Garda investigation into the killing. Eddie's son Albert told An Phoblacht in 2001 that the family had not received a single piece of correspondence from the gardaí in relation to the investigation. They also say the well-planned assassination indicates the UDA gang had high-level assistance in the killing.
Deputy Mac Lochlainn challenged the Tánaiste to meet with the family of Eddie Fullerton, to listen to their concerns and act upon them.
The Tánaiste would not confirm if she would meet with the family of Eddie Fullerton but said she would "speak with the Taoiseach about this".