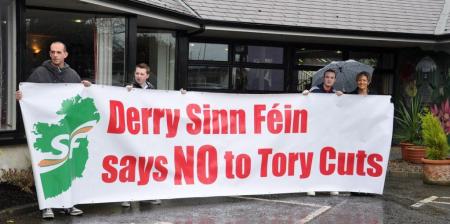 THERE was considerable relief that the Twelfth weekend passed off without widespread incidents of disorder. That was as it should be. The nationalist and unionist community of the Woodvale, Crumlin Road, Twaddell and Ardoyne deserved this respite.
Everyone in our society is entitled to live free from sectarian threat or harassment; no one should be subjected to hate crime. The fact that graphic examples of bigotry and hate were still in evidence during the last week – most notably in Antrim town, the Short Strand, Donegall Street in Belfast, and against Orange halls in Ballycastle and Eglinton – demonstrates how much work needs to be done.
Political unionism has shown the influence that it can exert over events on the ground. The leadership it provided clearly restricted the ability of extremists to inflame tensions and cause instability.
This was a positive development and is to be welcomed. Now it's time to build on that example.
The parading impasse at Ardoyne will not be resolved without proper dialogue. So, leadership is now required to resume talks between the Orange Order and local residents. Those talks must not be postponed indefinitely. An immediate initiative should be taken.
That is the engagement that really counts instead of meetings with a Secretary of State who doesn't even live here far less understand the issues.
Political unionism walked away from the talks table two weeks ago. It was a pointless stunt.
The only question that arises is not whether the DUP and UUP will come back into talks but when, and to which format.
They should give leadership and make it sooner, not later.
That should be an incentive for the Irish and British governments, with United States support, to put the correct framework in place to address all the outstanding issues.
The political process and institutions have taken a hammering due to the absence of leadership and real engagement.
There is no alternative to pro-Agreement politics, Good Friday Agreement principles and process, and power-sharing itself.
Political unionism should give leadership and unite with all other parties in addressing the stark challenges we all face.
They include:-
Permanent resolutions to contentious parades;

Eradicating sectarian and racist hate crime;

Agreeing the compromises needed to deal with the past;

Leading a popular fightback against neo-Thatcherite welfare cuts.
Tory welfare cuts put parades into perspective. They will adversely affect the lives of all our citizens, regardless of religious or political affiliation. United leadership is now required from every party against welfare cuts.