PLAINS is a small, quiet village in north Lanarkshire, close to the larger centres of Airdrie and Coatbridge.
The west of Scotland is marked by sectarian geography not unlike the segregation seen in the North of Ireland – Plains is regarded as a Catholic village, as is the town of Coatbridge, while Airdrie is seen as strongly loyalist, with the suburb of Clarkston, the closest point of the town to Plains village, a veritable sea of Union Jack flags.
Last Saturday afternoon, all seemed quiet on the sleepy main street of Plains but, inside the small but busy community centre, an event probably unheard of in Scotland was happening in front of a fascinated audience.
Organised by the local cumann of Irish republican group Cairde na hEireann, it was an event which demanded rapt attention and respectful silence in the room.
On the community centre platform were six people, five men and one woman, each telling their own personal testimonies of the conflict in the Six Counties, or 'Northern Ireland' as some had it – a conflict to which there is so much allegiance and affinity in the west of Scotland.
It was a scene some present thought almost impossible to credit. Three Irish republican former political prisoners sitting alongside three former members of the British Army who had all served in the North.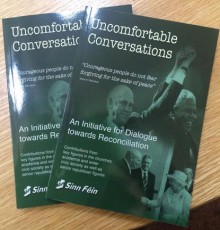 All unaccustomed to public speaking, and all just a bit nervous of each other and of whatever audience turned up, the event soon took off as all the panellists rose to shake hands with each other. And, during the course of the discussions, all remarked that they felt in no way 'uncomfortable' with each other.
People spoke plainly and directly about their experiences and didn't try to soften the impact of what those 'the other side' represented had done to them – Archie Fleming's brother shot dead by the British Army; one of the British soldiers' memories of many friends killed in the IRA's Warrenpoint ambush of a Para convoy in 1979.
As one of the ex-soldiers arrived up to the venue sporting a small set of Para wings in his lapel, some of those gathered smoking outside shifted uncomfortably, remarking it was a bit insensitive given that the three Irish republicans hailed from Derry, where the scars left by the Para killings on Bloody Sunday still run so deep.
But such reservations were forgotten as the debate in the hall warmed up. People were honest and discussion ranged from the political developments which have allowed such events to happen to many very personal reminiscences of times of conflict, post-conflict and post-prison, including the death of Mickey Kinsella's brother Pól while still a republican prisoner.
All strongly agreed with each other that the Peace Process had to keep moving forward. No one on that stage wanted to see any of a younger generation having to go through what they had encountered, whether it was the house raids, interrogation and imprisonment described by Patricia Moore; or to be a teenage soldier standing among a hostile population on the Falls Road or in South Armagh waiting in fear of the unseen sniper.
The audience paid close and respectful attention, and every contribution was openly and genuinely applauded. Questions were straight and the answers were equally honest.
Both audience and panellists commented, extremely unfavourably, on the absence of the representatives of local unionism who had been strenuously and repeatedly invited to attend – church ministers, local Orangemen and local loyalists. They were regarded as having turned their backs on dialogue and whilst they may have been uncomfortable at the prospect of attending, it would have been no more uncomfortable than for the three friendly and honest local men who had gone to fight "for Queen and country" and returned to their home places.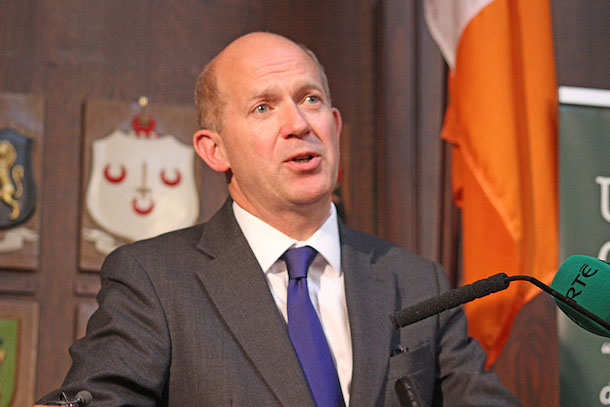 ● British Ambassador Dominick Chilcott launching 'Uncomfortable Conversations' in Dublin with Gerry Adams last week
At the end of a week where Gerry Adams and British Ambassador to Ireland Dominick Chilcott had shared a platform in Dublin, this small but significant event in a small Scottish town was a fascinating couple of hours.
As people parted outside, it was handshakes all round. It was clear that the afternoon had whetted the appetite of those present to develop such events of reconciliation and acknowledgement, and to bring this much-needed debate back to Scotland again in the future