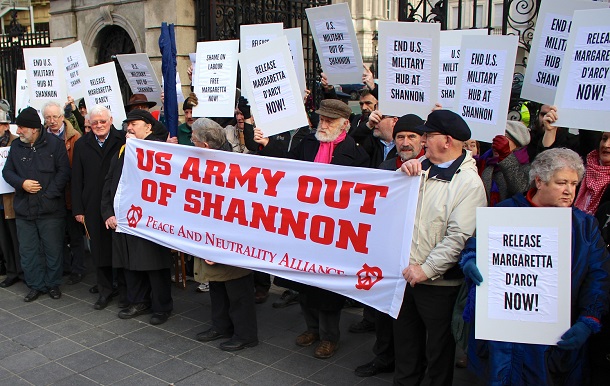 WEAPONS and munitions which are being pumped into the Middle East and fueling Europe's refugee crisis are being transported through Shannon Airport, a Freedom of Information (FOI) request by Shannonwatc shows.
The FOI by the anti-war organisation reveals that the Fine Gael and Labour Government approved 272 US military flights carrying weapons and explosives to pass through Shannon Airport in 2014.
The FOI also shows that over 550 permits were granted by the Department of Transport to airlines carrying US troops and munitions to forward operating bases in the Middle East. Only 20 requests were refused.
Retired Irish Defence Forces officer and Shannonwatch activist Edward Horgan says it is likely some of the weapons which passed through Ireland are now in the hands of the Islamic State (ISIS) group who have captured huge amounts of US equipment while other US-backed rebels have either defected or simply handed over their weapons to ISIS:
"US arms manufacturers will be delighted with these developments as they will continue to replace all this ammunition expended in wars, or stolen and handed over to the likes of ISIS," he said.
John Lannon of Shannonwatch says the continued flow of weapons into the Middle East is exacerbating the refugee crisis:
"The information reveals flights going to the likes of Saudi Arabia which is dropping cluster bombs on Yemen. When we see the scale of the refugee crisis created by the use of weapons in Syria we begin to get a glimpse of how arms shipments can impact on a region. It's not something we should be part of."
John Lannon also said the records seen by Shannonwatch showed a lack transparency, no proper oversight and little regard for the consequences of war:
"Why couldn't the Government have answered some of the many requests made by TDs like Clare Daly, Mick Wallace and Sinn Féin's Seán Crowe for details of what is being brought through Shannon by the US army? How can our government claim we are in any way neutral when this is happening? " he asked.